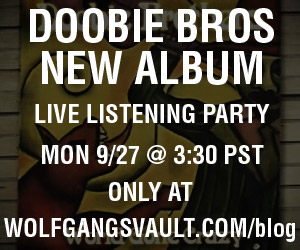 Tomorrow, Monday 9/27, Wolfgang's Vault will host an exclusive live preview of the new Doobie Brothers album World Gone Crazy, their first in ten years, which is set for release on Tuesday.
The special event will take place at 6:30pm EST / 3:30pm PST at Wolfgang's Vault.
If you're new to Wolfgang's Vault here's a quick breakdown on why they're one of our affiliate sponsors and one of our favorite online music sites.
Wolfgang's Vault offers downloads of all types of live music experiences including downloads of pop, rock, blues, indie-rock and jazz concert recordings from the past and present.
And because of that we were honored to have them sponsor our Father's Day Memory Festival.
I've used Wolfgang Vault's  Public Playlist — where you can listen to playlists from 1960-2008 and everywhere in between — many times to do concert experiments. It's come in handy when I want to voyage back in time to a Who or Jimi Hendrix show, or explore the new music, like a Bon Iver concert via Daytrotter's free live studio sessions.

Registration to the WGV is free. And once you sign up, you have access to Wolfgang's Concert Vault that has over 350 free concerts
.
Here's a few more links so you can:
Get the Wolfgang's Vault Mobile App
If you're a mobile concert fan, you'll want to download the very cool Wolfgang's Vault iPhone app that was voted tops in 2009. And, in case you're wondering, they've told me that an Android version is coming soon. You can read more about WGV in this news American Business Awards story.
Have fun exploring WGV and let me know what you think of the Doobie Brothers event tomorrow in the comments below!