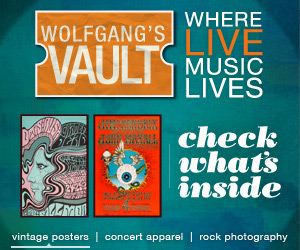 On Mother's Day, we had fun celebrating Moms who love live music. And now it's time to give Dads the stage on Father's Day and discover what moments they remember the most and how live music has changed their lives.
There's many ways to celebrate Dad and today on Live Fix we're going take a moment with this very special Father's Day feature to discover how live music has changed the lives of Dads and their families throughout concert history.
For this mega-feature dedicated to dads, I invited a group of ten Dads from my family and friends to voyage back and recall their favorite concert experiences. And since it is Father's Day, I also asked them to share a little fatherly concertgoing advice.
Besides this feature being made up of a great group of dads, I'm also excited to share there stories with you because each dad brings different perspective on live music. Some of them are pure fans with tons of life-changing concert memories. And others are both fans and musicians with perspectives and insights from both sides of the stage.
Best of all, they've all shared the impact of how their passion of going to concerts is more than just an escape, but serves as a source of community and connection with their wives, children and other family members.
I'm so jazzed about this feature because of its breath and diversity, too. The dad concert experiences you're about to read span over sixty years of concertgoing and included multiple genres from blue grass and barbershop to jam-bands and hip hop and rock.
Since we're celebrating how important live music is to the past and present, I'm pleased to have this post sponsored by Wolfgang's Vault
, a site where you can listen to and download concerts some of concert history best and most legendary moments.
And to give you a glimpse of what each dad might have experience I've included a few sample tracks from tours and interviews artists that the each dad has mentioned from Wolfgang's Vault. The tracks might not be the exact concert the Dad attended, but nonetheless listening to the tracks, and watching the videos below will most certainly shoot us back to the time period and allow us to rock and roll and truly celebrate each Dad's moment. More info on how you can download the more of the music mentioned in this post follows the feature.
Here's How We Did It
Earlier this week I sent each Dad a short list of among other dad-centric live music questions. Below are the questions and beneath each dad's brief bio you'll see the corresponding number of each question so you can match up their responses.
Interview Questions:
1. What was the first concert you went to and what was your experience like?
2. What was the best concert you ever went to and why was it your favorite?
3. What fatherly advice do you have for other dads who want to teach their kids about how to enjoy their first concert? (Questions with an "*" are ones for dad's who play in a band. For them I asked an extra musician-related question, so they have 9 instead of 8 questions.)
4. If there was one concert you could re-live, which concert would it be and why?
5. How did becoming a dad change your ideas or perception of going to concerts?
6. What's the biggest misconception about dads who love going to concerts?
7. What's the best thing about being a dad who loves going to concerts?
8. Anything else you'd like to share?
10 Dads Who Love Live Music
Steve Weinberger
Steve is the author of No Air Guitar Allowed, an entertaining book on concert culture characters. Steve's been to over 1,000 concerts and has shared many insights into his experiences with us before. You'll want to check out our interview with him for even more details on his concert adventures. He's a good friend of Live Fix and we're happy to have him join in on the fun of this Father's Day Feature.
1. Seeing KISS in 1977 changed my life.
2. Bruce Springsteen's Born In The U.S.A Tour, 1985 L.A. Sports Arena opened my eyes to the concert experience like never before.
3. Don't let on that you love the band too much because lets face it, anything your Dad likes, can't be that cool kids always say. Let them figure it out themselves.
4. Morrissey San Diego, tour before last. He never finished the show because he was unhappy w/the sound. First time I've ever been to a show where the venue served beer AFTER it was over.
5. I did not realize "THE WIGGLES" put on such a bangin' show.
6. That the old Bad Company tour shirt still fits.
7. Knowing the best place to park to beat the crowd exiting.
8. There is no better way to enjoy a moment with your kids then the live concert experience!
Dan O'Donnell
Dan is one of the three O'Donnell's you'll get to know today.  As my father-in-law, I've talked with Dan before about his concertgoing history, but still, his responses surprised me and put a smile on my face because I didn't know how sneaky he could be when it comes to seeing Humble Pie.
1. Seeing Humble Pie was strange but fun. I sneaked in through a window in the roof of the Chicago Amphitheater to see them.
2. Led Zeppelin, Alice Cooper, Pink Floyd, U2 and Grateful Dead. I can't say which was the best. Each one was best in its own way.
3. Spend your money on something more worth while.
5. That money was spent in a better manner like feeding my children.
6. That Dads who love going to concerts never grew up and that they most likely are divorced and live with there parents.
Dennis O'Donnell
Dennis is Dan's brother and his sense of humor always makes me laugh. And his insights into Peter Frampton and his fatherly advice truly make this feature a family affair.
1. Genesis
2. Seeing Peter Frampton last year because family and friends were there.
3. Go with them and show them what drunken fools look like and remind them that they can enjoy the concert without being a drunken fool.
4. I have not gone to many concerts but no matter what event I am at, its the company that I am with that makes the event special. Last year I had a blast at Peter Frampton because Laurie, Meg, Sarah, Cindy and a bunch of my friends were there. Yes, I thought Frampton was cool to see and listen to but what made it fun was the people I was with.
5. What scares me the most about being a dad is the exposure to drugs and alcohol that your kids can get at concerts. The girls go crazy for the musicians and the groupies are not what I want my girls to see. Having daughters, this scares the hell out of me!!!! The music industry has an image that drug use is cool and everyone does them.
6. The biggest misconception is that they are big partiers. I know a few dads that just love music and enjoy going to concerts. They drink but don't do drugs.
7. I love being with a group of people that just want to have fun the right way.
8. Happy Father's Day and enjoy every day with your father and your kids. Appreciate every day!!!!!
Joe Catania
Joe is my older brother and it's super cool to have him a part of the celebration today. He's a big huge massively dedicated Phish fan and he's also a Dad who loves passing along his love for live music to his kids, whether that's telling them about his unforgettable Phish experiences or what it was like going to the first Lollapalooza in 1994.
1. My first concert was, I think, the Spin Doctors. It was fun at the time because I didn't know any better. I was in the classic mold of going to a show to hear a couple of hits. I sung along to the hits and went home! Oh, and we ran over a beer bottle in the parking lot and got a flat tire, so that was fun. That same summer I redeemed myself with Lollapalooza '94.
2. Easily, Big Cypress, New Years of the Millennium, with Phish in the Everglades. Not to overuse a word, but anyone who was there will tell you it was magical. 80,000 people just dancing till the dawn. And we got to yell cheesecake on national TV! I have never felt such a strong sense of community ANYWHERE for anything as I did that night. Everyone there was your best friend. Unbelievable.
Honorable mention goes to the Beastie Boys at Rosemont Horizon for the Hello Nasty tour. Floor seats, giant rotating turntable stage. Nuff said.
3. Take them and show them that it is, in fact, about the music. Not all of the (let's face it) 'other' things that go on. Teach them a strong respect for the art of performance.
4. I'd relive the last hour and a half of Big Cypress, because I fell asleep on the lawn at 5 and woke up after the last song.
5. Being a Dad hasn't change it at all. I can't say that I'd necessarily take my kids to any of the concerts I still go to, but I will when I'm ready for the barrage of questions it will unleash.
6. We're irresponsible. I've met so many dads lately at shows, guys just like me. Most of us call home to check on the kids at set break, or at least we make sure our wife does.
7. This will sound bad, but not feeling like a dad for at least a couple hours is damn nice every once in awhile. I love live music so much, when that band comes on stage I try my damnedest to feel like there isn't anything else in the world.
8. Happy Father's Day everyone!!! Amazing timing, right now my iTunes is playing a Phish Father's Day show where they (the band) brought all their kids out onto the stage in a giant bathtub. And I was there! Gotta love 'em.
Vern Bertrand
Vern is my Grandpa and he's performed in barbershop quartets for nearly all of his life. I've always wanted to know the answers to these questions because I've grown up hearing stories about his barbershop concerts.  And I'm pumped because I finally I get to share with you just how important performing and seeing live music is to him and our family.
1. Some of the first concerts I attended were the ones that I performed in along with my two brothers and my sister and my Dad & Mom. The four of us kids sang and played guitar and banjo. My Dad played violin, and Mom played piano. We did this with a cast organized by one of my uncles, and we entertained over the summer at county fairs for a couple of years.
2. I would have to say that the concert that most affected my life was in 1959, when I attended the annual show of the Arlingtones Barbershop Chorus from Arlington Heights. I was completely taken by the amazing sound of four part vocal harmony. Another friend and I joined the chapter the next week, and began a hobby that I enjoy to this day.
3. I believe the best concert I ever attended was just last year, when my three sons (your uncles, Brian, Marty and Lee) got together for a few days at Brian's home in Texas to do some fishing, eating, and talking. One night we went to a concert by the Vocal Majority chorus from the Dallas-Fort Worth area. They are a chorus of about 150 men, who have been the International Champions of the Barbershop Harmony Society many times over during their long existence. Their sound rattled around in my head for days after the show!! And the winner's of International Champion Quartet have thrilled me for years.
4. The concert I would most like to re-live was, once again, one in which I performed, in about 1965, when our chorus, The Arlingtones, sang well enough to win the District Championship for the first time, singing against about 15 other choruses from Illinois, and went on to represent the district at the International Convention in Portland, Oregon. We won the district several more times, but the first time was the best.
5. Before I was a Dad, I don't believe I ever attended what you would call a concert today. The closest thing to a concert that I attended was during my high school days when one of the local dance halls would bring in one of the big bands of that time, and we would go there to listen and dance.
6. I don't think there is a misconception about Dads who love going to concerts! I think it is obvious that we enjoy seeing and hearing professionals at their best, whether it's live or on TV.
7. The best thing about being a Dad who loves to attend concerts, is that it gives you the opportunity (either live or on TV ) to see today's performers and judge for yourself how they stack up against the performers that we knew earlier in our lives.
Bob Tepper
Bob is my step-Dad who's told me tales before about his concert adventures. But now I know even more about how the Grateful Dead, Barry White and Waylon Jennings have all helped lift Bob off his feet and given him a concert experience he'll never forget.
1. Grateful Dead. Jerry Garcia was the best. Lot of "stuff" being passed around and the night was wild. This questions was a toss up between The Dead and Waylon Jennings. The stage was loaded with speakers, and it took about three days before you could hear again.
2. Barry White and Earth Wind and Fire. When Barry was on stage the audience became part of what he was singing. It didn't take long and everyone was on there feet swaying and dancing. The man was great!
3. My kids grew up being music conscious, went to concerts and had tons of CDs. I just let it progress and it happened. My advice: just let it happen.
4. Barry White because he elevates you to a new place. You really get carried away during his concerts.
5. It didn't. I was all for it then and I'm all for it today. To today's children I say "enjoy!"
6. We may have grown up, added years to our lives, but we are not sticks in the mud. Go and have fun!
7. You remember the excitement and still enjoy the memories.
8. We need bigger venues so all the "old" people can get in without a hassle.
Pete Hlavach
Pete is one of my friends who I've learned a lot from when it comes to being a dad who loves to rock. He plays a mean and gnarly rock guitar for several bands, notably The Norwood Park All Stars, a Chicago-based punk band which we've covered previously on Live Fix in our exploration into Chicago's Nor-core punk scene. And now that Pete's shared more about his concertgoing history, I know just how serious his love for seeing metal, punk and rock guitarists shred live really is.
1. Aerosmith at the Rosemont Horizon (when Joe Perry wasn't in the band). My sister drove me and two friends from high school to see it. In hind sight, the show wasn't that remarkable, but it sure felt cool at the time.
2. Anthrax at the Aragon Ballroom for the "Among the Living" tour. We drove up from Champaign, IL and waited outside all day. Again, it wasn't the concert itself that was so memorable, but the experience of hanging out with the most hardcore of metal heads for 10+ hours that made it unforgettable.
*3. I've become a concert snob. I'd never go see Aerosmith (or any band) in a large venue again.
4. Get your big sister to drive.
5. I saw Robert Plant with the Strange Sensation in Detroit in the second row. I saw it with a buddy, but wish I could see it again with my wife. She's crazy for Robert.
6. Since my kids are still young, I'm lucky to leave the house at all.
7. Once I start going again, I'll let you know.
8. See previous answer.
9. Children love musical instruments and music. Don't be afraid to expose them to the artists you love. They'll be more receptive than you'd expect.
Brian Bertrand
Brian is my uncle who plays guitar in the Day Job Refugees. Like my Grandpa's barbershop stories, I've grown up enjoying watching Brian play guitar at family parties and other events. I haven't yet had the pleasure of seeing the Day Job Refugees live, but now I know just how much Pink Floyd swept Brian off his feet and how Brian learns about new music by going to concerts with his kids. Check out live performances of the The Day Job Refugees on their YouTube site.
1. My first concert was an accident. Growing up in Wheeling, I spent more time at the pool than anywhere else. I was a lifeguard at the high school pool and found out that they were having concerts in the field house next to the pool. One door that connected the pool to the field house was unlocked, so a bunch of us wandered in to find REO Speedwagon blasting away to a bunch of stoned kids. I distinctly remember that being the first time I smelled pot. The lights, sound, smells where incredible! I believe I was around 15 at the time, so that'd put the year at 1975. I made a point to always be at the pool when those concerts took place… I remember seeing Ted Nugent and Styx under the same scenario.
2. I'd say Pink Floyd's "Delicate Sound of Thunder" tour at Mile High Stadium in Denver in 1986. I was playing in a band with a guy who ran a record store that was also a ticket outlet and he skimmed 10th row center tickets for the show. The Floyd has always been one of my favorites and to finally see them live was amazing, especially that close up. The sound was incredible, bass that would rattle your chest. Of course the light show was absolutely out of this world… lasers, huge moving clusters of lights, a huge mirror ball that rose out of the stage and then split open like a flower. David Gilmour is one of my favorite electric guitar players… love his technique and his tone. Only thing missing from that show was Roger Waters, but we finally got to see him two years ago here in Dallas when he did Dark Side of the Moon in its entirety.
*3. I guess I tend to look at performances more technically. I like to scan the stage for the guitarist's setup and see what they're using to get the tone they do…the quest for tone is never-ending. I always like to see how an artist will sound live versus the studio recordings and how they may re-arrange a song to play it live. I'm always very disappointed if an artist plays a song EXACTLY as they did on a recording.
4. First and foremost, pony up and get good seats!! I recommend getting seats close to the sound console… you will have a good view of the stage and the guy standing next to you in the sound booth is responsible for making the sound that reaches his ears the best in the house! And stay away from the mosh pit!
5. I'd say it'd have to be the Pink Floyd concert, but I'd love to have my kids there. Why? Because it was such a sensory overload!
6. I love introducing new music to people, especially my kids. What surprised me though was as my kids got older, it became mutual sharing. Because of them I've been introduced to some of my current favorites like Incubus and BareNaked Ladies. I took my son Shane to see Peter Gabriel and he took me to see System of a Down. I took both Shane and Jessica to see Roger Waters and Jess took me to see Incubus. I just love and cherish those experiences.
7. A big misconception has to be that going to concerts is something Dads can't enjoy with their kids. If you've kept an open mind about their music ( I know, I know… that's pretty hard sometimes) and introduced them to your favorites over the years, it can be a very rewarding experience.
8. Again, just the opportunity to share the experience with those you love! It's always amazing to see a concert through someone else's eyes and watch them enjoy the music, even if it's a band or artist you've seen a hundred times.
9. I don't remember who said it, but roughly… music is a shared universal language that transcends all things… race, culture, political viewpoints, religion, etc. Get out there and experience it!!
John O'Donnell
John is the brother of Dennis and Dan. And last November John past away due to cancer. But before he passed on, we had the pleasure of talking with him about his amazing and successful quest to meet Kid Rock back stage (photo above). So as a tribute to John and his family, we'd like to re-post this link to our original interview with him.

Joseph Catania
As you probably assumed, I've saved the final spot to talk about my own Dad's favorite concert experiences. Now, this is something I struggled with, but while I was at the Jakob Dylan concert last night, it dawned on me that one of the most important reasons why were doing this Father's Day feature is to make sure that we don't forget to ask or learn about what concert experiences are the most treasured by our Dads.
Much of what you've read so far, you might be discovering for the first time. That said, I'll tell you that, unfortunately, I don't know what my dad's first concert experiences was or what he felt during his first concert because last December he was diagnosed with Dementia, and since then it's progressed to the point where he can no longer talk or converse.
But thanks to his sister Rosanne and my mom, I do know that one of his favorite concert experiences was seeing Neil Diamond. Here's what Rosanne told me via email:
I remember we all I went to see Neil Diamond concert with your Mom and Dad at the old Chicago Stadium. I know your dad was awestruck and loved Neil Diamond and to be seeing him in person he thought was amazing. I remember how happy he was standing there watching the concert and swaying to the Neil Diamond songs and singing along. It seemed like he just let all business worries go and was in another world enjoying the concert. I remember he just kept saying "Rosie this is amazing, I love Neil Diamond and his music. This is great, this is great."

I think for him the concert was an escape to another place where he could really enjoy himself, let himself go and forget about any business worries or other problems. I remember he talked about that concert for years. It seemed to me like he was another person, happy, enjoying himself, loosing himself in the music and having a great time. I am sure the Neil Diamond concert was his favorite concert.
I figured one of my dad's favorite concert experiences would involve Neil Diamond in some way. My mom also told me some funny stories about my dad and her going to see Neil Diamond while they were dating. But I never got to know the details about my dad's experiences until I read that email from my aunt or talked with my mom.
I might not know what his first concert was like, but what I do know is that my dad felt a lot pleasure, comfort and inspiration when he saw Neil Diamond live. And I'm sure the other nine dads would say the same thing about their concert experiences in one way or another. That said, I hope you've had as much fun as I've had seeing how 10 Dads, who don't all know each other, are still connected through their love for live music.
Update 8/30/10:
In August, my father passed away and as I reflected on his life and love for Neil Diamond live, I wrote this special tribute.
To wrap up this Father's Day post, I want to thank all the Dads who contributed and Wolfgang's Vault
, for sponsoring it. You can get more tunes from the bands mentioned in this post by clicking on the WGV link above.
I can't say enough how awesome it was to read your stories and learn how live music has changed your lives and allows you to connect with your families. I hope this post inspires all Dads and their families to share their concert stories so that we do know why and how live music has, and continues, to impact your lives. Please feel free to leave a shout-out or a question for any of the Dads in the comments below, and we wish all Dad's a very HAPPY FATHER'S DAY!