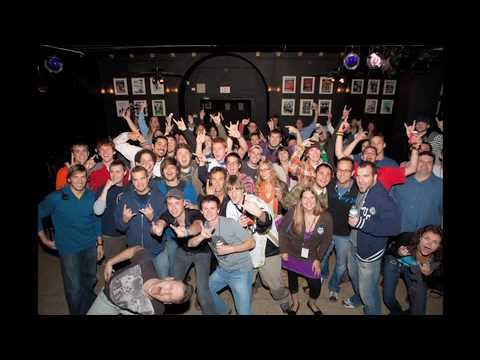 What would you do if you could control a band's live show?
Would you tell them to play your favorite songs note for note, or would you request a fresh improvisation on the spot?
Well, if you're an Umphrey's McGee fan, you'll have the chance to be a part of a very interesting concert experience that gives you "control" over a show.
During Umphrey's McGree current tour on select dates they'll be inviting fans to participate in an all-new Stew Art Series (aka, "S2") – "an interactive fan experience where audience members "conduct" the band's live improvisations."
When I saw Umphrey's McGee at Summer Camp last year I was impressed at their fusion of rock, jazz, soul, and especially their improvisation style that apparent involves the band members sending signals to each other as cues for the next improvisational move.
So it makes perfect sense that they would embark on such "a crowd-sourced improvisation experiment," in which all the music performed by the group on stage will be entirely directed by S2 audience members. 
Since I have yet to experience an S2 event, I'll share with you what has been explained to me via the initial press release thus far:
…The inaugural S2 at Milwaukee's Eagles Ballroom was received with overwhelming enthusiasm and to rave reviews. The sold-out crowd of 50 fans submitted their ideas by texting descriptive words, phrases, and pop culture references (pretty much whatever came to mind), to the Umphrey's Mozes mobile interface. 

The suggestions were then filtered by the band's long time Sound Caresser Kevin Browning and projected on a screen for the band to digest and turn into the next phase of the jam.  The band's music varied stylistically with suggestions ranging from "an afternoon bus ride in Jamaica" to "drinking pina coladas…in a hurricane". 
Here's one fan's reaction so far after the Milwaukee show. "S2 was the coolest thing I have ever been a part of. It's always been a dream of mine to meet the band, and the opportunity to participate in leading the Jam for the band was a dream come true as well."
It's important to note that the band wants to make one thing very clear. "S2 shows are TOTALLY separate events than each concert date and will be sold as a separate ticket." 
They also explain that "if you get a ticket to S2 that does not get you into the show later that night (and vice versa)."
"The S2 experiment is just that, an experiment," says Keyboardist Joel Cummins. "The improvisational elements of our show have always been one of our favorite parts about playing together – and we think the audience feels that way, too. That's our inspiration for the S2 series. It's also a great way to stay on top of our chops."
Some other key points to note:
 S2 events take place in the early evening before the respective show start times.
 S2 events also include a Q&A session for fans to ask about what they're witnessing.
 The ticket will also include a custom laminate that will be different for each S2 event.
 Every attendee will receive an autographed CD of the Stew Art Series they attend – minutes after the event   has concluded.
Prices and ages vary from show to show – which should last one hour (with Q&A).
But I wonder…?
Why the separation between the concert and the S2 event?  
Is the separation a creative way to make each pre-concert unique and maximize monetarily on the standard concert ticket price?
If I was going to these S2 events, I would be a bit disappointed when it's over because if I didn't have tickets and thus couldn't go to the show afterwards.
Even though, it looks like an innovative experiment that's breaking new ground in the concert experience, I wonder why they aren't doing it during the actual concert?
Why would you waste such a great opportunity for fan interaction before the actual concert? 
Is this just a test-run to see how they can incorporate it into the live show?
If it is a test, why not just let it rip and give S2 a full fan test during the show?
Here's  list of shows for the fall tour so far.
UPDATE:
Umphrey's offers their next S2 event in D.C. – during a two night run at the 9:30 Club.  Details are as follows:

Umphrey's McGee S2
Saturday, November 21 @ 4:00 PM (doors at 3:30 PM)
9:30 Club
815 V Street, Washington D.C.
Tickets:  $99.00
ON SALE WEDNESDAY, NOVEMBER 4 AT 12 NOON EASTERN TIME AT WWW.UMPHREYS.COM
If you're planning to go to any of these shows, let us know how the S2  event and the regular concert goes for you.  
October 21 Knitting Factory Spokane WA
October 22 Showbox Seattle WA
October 23 McDonald Theatre Eugene OR
October 24 Crystal Ballroom Portland OR*** [S2 show that day]
October 25 Eureka Theatre Eureka CA
October 27 Crystal Bay Club Crystal Bay NV
October 28 McNears Mystic Theatre Petaluma CA
October 29 House of Blues West Hollywood CA
October 30-31 Las Tortugas – Dance of the Dead IV Groveland (Yosemite) CA
November 11 The Opera House Toronto, Canada
November 12-14 Higher Ground Ballroom South Burlington VT
November 15 Port City Music Hall Portland ME
November 17 Northern Lights Clifton Park NY
November 18 Water Street Music Hall Rochester NY
November 19 Mr. Small's Theatre Millvale PA
November 20-21 9:30 Club Washington D.C.
December 10-14 Caribbean Holidaze Runaway Bay
December 29 Vic Theatre Chicago IL
December 30-31 Aragon Ballroom Chicago IL
March 21-23 Jam in the 'Dam, The Melkweg Amsterdam