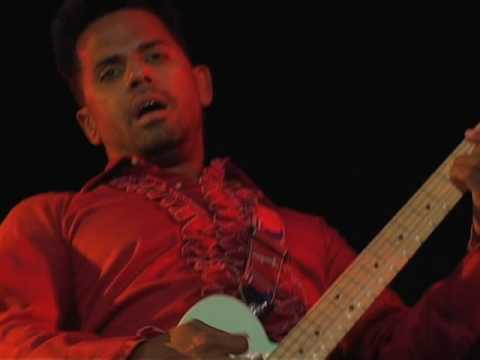 I'm trying something new with this post.  
I received the above live concert video via email showcasing modern rocker Ariel Aparicio during a live performance of his song "The New World" at a recent show at Public Assembly in Williamsburg, Brooklyn.
I enjoyed the video and I wanted to share a few important things that stood out about the video with you.
You're now a part of a new Live Fix experiment–I hope you'll enjoy it!
What Moves You: The Emotional Inertia of Live Concert Videos
Before we get to the details of Aparico's video, I wanted to tell you something I've been meaing to share for a long time.
Live concert videos always amaze me because they can present the artist uniquely, that's different than the average music video. And depending on how and where the video director decides to film it, the video can reveal something new about the artist that a regular music video can't.
Usually when we're watching a concert video, as fans, we're in some sort of passive physical state like sitting down or lounging on the couch.   But on the inside, on some level, our emotions are going up and down and side to side.  It's what I like to call emotional inertia. It's similar to Newton's Third law. But since it captures my idea perfectly,  I'm going to put the Law into an emotional context and use it to discuss the emotional and creative influence it has on the live concert film or video
Taking the Moment to the Next Level
When an artist decides to film a live concert video, it singles to me that they're aiming to take their music to the next level.
Because when an artist records a live version of their song, they're aiming to do one of the hardest things in all of musical performance:  which is capture both the song's and the emotional intensity of the crowd's response to that song forever.  In essence, what they're also doing iscapturing the emotional interia  of the performance.  And in doing so, they're making that live concert moment more significant and meanful for us by "moving" our hearts and minds (and maybe even our bodies) to a higher place. 
Sometimes the artist and the video director are triumphant in their quest to alter, influence or enhance the Laws of concert performance physics, or push our emotional inertia in a positive or uplifting direction.   
And others times they're not.
If not, the emotional inertia remains unchanged, or even worse, it's decreased  to a lower level than the actual live event they're capturing. I know I've watched certain live concert videos where I've been a part of the live event, only to watch the video recording and feel like the two were completely unrelated.
What is a Live Video Incision?
So why bring physics in to live music?  Well, simply put: I love trying out new ways of exploring live music. It keeps things fresh. And it keeps live music from being just a thing we do to escape. Because it's far more than that. 
Sure, it's okay to be passive at concerts. But we should never forget that live music (good or bad show) is an event that changes us forever.  And we should always on some level be actively seeking out why it plays such a major role in our lives and culture.
So instead of just simply posting the Aparicio video, I decided to create Live Fix's very first Live Video Incision (LVI), which is a quick way to cut into the video and find out more about the video's emotional inertia and discuss it's creative inspirations. Consider a LVI like doing an emotional and creative backstory biopsy on the video. Sort of like when they cut into my head a couple of weeks ago but without the sedation.
The New World's Backstory Biopsy
After watching the video a few times, I sent a few follow up questions to Aparicio and his PR Crew because there were a few things about the video that I wanted to know more about.  And his PR crew referenced David Bowie and Julian Casablancas (The Strokes) to describe the musical style, live show performance and the sound of Aparicio' s latest album All These Brilliant Things.  So, needless to say, my interest was peaked.
When I sent the  follow up questions for Ariel and his PR to answer, part of the LIV plan was to give them a chance to elaborate on the video background and explain a little bit more about why they chose to film  the video at the Public Assembly, and why they chose the editing and producing direction they did.  
Here's what they had to say via a short email interview;  it's  a combination of Aparicio's and his PR Crew's responses. 
What inspired to shoot the video  at the Public Assembly? 
 
Ariel wanted to add a "live" video to his catalogue and thought that Public Assembly in Brooklyn was the perfect venue to do so.
 
What inspires Ariel's physical expressions during the performance?
 
Ariel is inspired by years of watching 100's drag queens lip sync!  He said, "I've learned from the best!!!"
 
You used the words "energetic and fun" to describe his live show?
 
The way Ariel carries himself on stage exudes an energetic and fun demeanor, a feeling which reflects upon the audience's experience at any Ariel Aparicio show. Ariel's main focus with every live performance is to have fun, rock out, and get the crowd to do the same – so energetic and fun are just two of the many descriptive words that could be used to portray the experience that is an Ariel Aparicio show.
Was I Moved by The New World?
Was there any emotional inertia?
The video certainly captures the "fun and energetic" feel of  an Aparicio performance. And I especially liked their use of the word "energy" to describe his show.  Mainly because energy plays a pivotial role in inertia, especially emotional inertia.  And Aparicio does exude a large amount of emotional energy during the performance. 
So, needless to say, there was emotional inertia in this video.
It was filmed with a lot short, quick edits as Aparicio crooned, swooned and switched from singing to jamming on his guitar. I felt like I was in the front row as Aparicio flashed intimate glares directly in to the camera–and right at me! 
I've never been to Public Assembly, but I hope to visit there the next time I go to Brooklyn. Because when I took  brief tour of their website, it looks like a great place to see a show. It looks like a place specifically designed to enhance the emotional inertia of a performance.
But when I cut deeper into the video and looked around beneath the surface, the one thing not in the video that I would have liked to see are the fans.  Since there weren't any fan interaction shots, I wondered if the video was shot during a live show, or without a crowd present. I wanted to know if Aparicio had altered, influenced, or enhanced the emotional inertia of any fans during the show.
That said, I was wondering if the video was made to entertain an audience of one. Or was it created so I could share the experience with other fans at the Public Assembly? 
Nonetheless, I really enjoyed receiving the Aparicio video, and it was great way to begin the new LVI feature on Live Fix.
So I'd like to also invite any other PR, or artists, to send me your live concert videos for review to chris@christophercatania.com.
Now,  I've started to wonder…
What are some of your favorite concert videos?
Have you ever been part of a live concert video?
Stay tuned for an upcoming post as I answer those questions and  explore the key elements to great live concert videos and films.