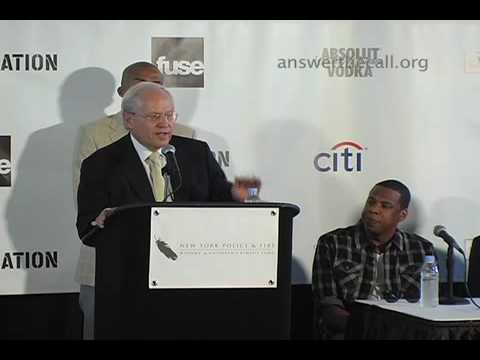 Sometimes there are press conferences I wish I was at, so I could ask my own questions.
Like this one at Madison Square Garden during which Billboard reports Jay-Z announcing his plans for his "Answer The Call" charity concert set to take place at Madison Square Garden (MSG) on Sept. 11, with all tickets priced at $50, and 100% of the proceeds from ticket sales and concert merchandise going to Answer the Call, a New York Police and Fire Widows' and Children's Benefit Fund.
During the press conference Billboard also reports Jay-Z saying this about his inspiration for the concert:
"This all came about September 10, 2001. I was in Los Angeles shooting a video. The album was to come out the next day. On that day, I got a phone call and a friend of mine said, 'turn the TV on.' I turned the TV on and I saw the World Trade Center on fire," Jay-Z said today before a room full of media at MSG.

"I turned the TV on September 12 and I saw footage of these heroic actions, people running to buildings and saving each other and I saw the strength of New York," Jay-Z continued. "It made me proud. So, as I was embarking on putting out 'Blueprint 3,' it was only right that we revisit that day. This is my chance to do something to help out."

 
Now, let me first say that Jay-Z is one of my favorite rappers and I'm excited to soak up the rest of his new album The Blue Print 3.  I also applaud him for his involvement in this concert event. Donating the all the proceeds from ticket sales and concert merchandise to the Answer The Call Fund is a commendable action of charity.
But there's a follow up question I'd like to ask regarding Jay-Z's recent 360 deal with Live Nation. 
I did some quick math on what the estimated donation might be.  At a flat $50 per ticket price and the MSG's estimated 20,000 seating capacity, the ticket sales donation comes out to around $1 mil, plus merchandise sales. Now that's a very healthy donation.
But here's what I'd like to know.
Since the bulk of concert sales are usually made on concessions and Live Nation is known for tacking on service fees too, I'd like to know if the donations will also include concession sales and service fees.  If it does, my admiration and respect for Jay-Z would only increase. And I would start to think more highly of Live Nation because if they do donate concession sales and service fees then that tells me that they're trying to do the right thing when it comes to using their immense amount of industry muscle for good, and not just trying to profit from the magical power of the live music experience in the name of a good cause.
If you have any additional facts or information that would help answer my question, please pass it along. And by all means, do join me in watching the concert on Fuse on Sept 11th.  It should be  fun and an emotional event.