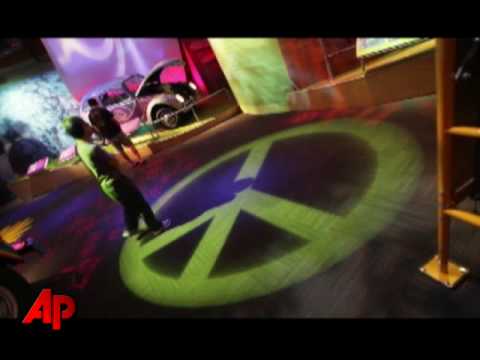 Watching a video like the one above always makes me wish there was a way to travel back in time to visit live music history's most influential concerts. Part of me thinks that if I could just get a taste or feel of the atmosphere it would help add more context to the reviews I write.
Why do I think this?  Well, for me, watching movies and reading about generation defining live music events sometimes is just not enough. And I always struggle with the fact that because I was born in a certain decade I will never be able to know exactly what it was like. 
I have a list of  historic concerts that I wish I could've been there to experience myself instead of reading about them.  But the hard truth is that time traveling Deloreans don't exist (yet).  But ever since I took a rock music history class in college, I've always appreciated a different kind of time travel, the opportunity to learn through the eyes of others. Good old fashioned storytelling and music journalism, that is!
That said, it's no secret that this post is about Woodstock 1969. And over  last several weeks I set out to challenge myself to read as many articles as I could about it's 40th anniversary to see if what I know about Woodstock holds true and has any significance to live music today. 
In short, Woodstock is legendary because it does have an impact on live music culture. And in my reading I had the pleasure of putting the historic concert in proper context and learn even more about the events leading up to Woodstock. And more importantly, I learned what it was like from the perspective of the promoters, the bands and the fans. 
My journey back to ponder the meaning of Woodstock over the last couple months was primed at Rothbury Music Festival in July.  Photographer/artist Leni Sinclair who shot at Woodstock, and who developed her career by taking photos of several of rock's icons, joined the other Rothbury photographers for a group photo to celebrate shooting The Dead on Saturday night. (see an interview with Sinclair here courtesy of BackstageGallery.com)
Then, as my reading about Woodstock continued, I began to wonder… 
Is live music better off forty years after Woodstock? 
Have we improved on the practice and the business of putting on live music festivals? 
In some ways, yes, we have.
 And in other ways, no.
I say "yes and no" because as I read and listened to others talk about Woodstock I was left with mixed feelings. I was left questioning if we've really learned anything from Woodstock  (or what happened a few months later at Altamont) and applied it to how we put on, and what we take away as fans, from music festivals in 2009. 
With the recent flood of summer music festivals over the last few years, I've asked myself  'what has Lollapalooza's Perry Ferrell learned from Woodstock?  How about Glastonbury and Coachella promoters?  Do they see it as carrying on the legacy, or creating their own? And what do all these festivals have to say, or contribute, when it comes to learning and building upon the "Spirit" of Woodstock and progressing the music festival experience as a whole?'
You can join with me in answering these questions by taking a look at some of the articles I read (and please send along any you've enjoyed, too).
Here are excerpts from, and links to, 3 of the articles I read–and as you read them encourage you to ask  yourself…
If you were going to put on a summer music festival, what would you do differently than the Woodstock promoters?
And since the fans where just as important to the Woodstock  experience as the bands were, what do we as fans have to contribute to the progressing of summer music festivals? 
This article,  from Popmatters's feature of the book 1969: The Year Everything Changed (Skyhorse Publishing, 2009),  took away some of the myths and romantismof Woodstock and revealed just how fresh and new to live performance many of the artists were and how fans were responding  (with love and anger) to the live music experience as it unfolded in 1969:
On June 20–22, 1969, the summer festival season kicked off with the Newport Pop Festival at San Fernando Valley State on Devonshire Downs in Northridge, California. A crowd of 150,000, the largest recorded gathering for an outdoor music festival to that date, witnessed a show featuring such acts as The Jimi Hendrix Experience, The Byrds, The Rascals, the Chamber Bros.Three Dog Night, and Booker T. & the MGs. After what was described as a subparperformance on Friday night, Hendrix returned on Sunday afternoon and jammed with an all-star band that included Eric Burdonand Buddy Miles .A week later, he headlined the bill of the Denver Pop Festival at Mile High Stadium, which also included Johnny Winter, Joe Cocker, Creedence Clearwater Revival, Poco, Frank Zappa & the Mothers of Invention, Iron Butterfly, Three Dog Night, Tim Buckley and Big Mama Thornton.

Both three-day festivals were marred by riots as police battled thousands of gate-crashers, and the attendees went a little wild themselves. At Newport Pop, fans dangled from the front of the stage as they tried to climb up during Hendrix's Sunday jam. At Denver Pop, police fired tear gas at the crowd during the Experience's set. The trio was rushed offstage and into an equipment truck. Fans climbed onto the truck and almost caused the roof to cave in while the band was trapped inside. It would be the last gig played by the Experience. Disillusioned by the whole scene and by the new directions that Hendrix wanted to take, bassist Noel Redding left the group immediately afterward and returned to London….. In the first weekend of July, a record 85,000 people attended the 1969 Newport Jazz Festival in Rhode Island, an event that was perhaps even more controversial than the Newport Folk Festival in 1965…"
I read this review of the Heroes of Woodstock–a concert designed to celebrate Woodstock. But as the review points out, the concert was a depressing facsimile that showed how unprogressive celebrating Woodstock can really be:
Things were different, to say the least. There was no gate crashing, no mud, no shortage of food, no warnings of bad LSD. The sold-out crowd of 15,000 was less than 5 percent of Woodstock's estimated attendance.

There were restrictions: Most of the original festival's natural amphitheater was off limits. (The stage was elsewhere, under a shed roof with reserved seats and lawn seating beyond.) Marijuana fumes were still in the air, but not so thick.
Last, but certainly not least, here's a NY Times article from a few months back that interviews the original Woodstock promoters as they struggle to decide whether or not they're even going to have a 40th celebration:
"My feeling is let's come back when that is the case," Mr. Rosenmansaid. "And Michael's position is let's do what we can now with less resources." One thing Mr. Lang and Mr. Rosenman agree about is that they are not trying to mine Woodstock for money. The 1969 event left Woodstock Ventures more than $1 million in debt. The most successful spinoff, the three-hour concert movie directed by Michael Wadleigh, has grossed more than $60 million, but most of the profit has gone to Warner Brothers.

At the moment, the two partners' most tangible project is Woodstock.com, a Web site scheduled to go up in June."
Woodstock.com does a good job of giving fans a place to re-live and reflect on the meaning of Woodstock, especially this fan "I came to Woodstock to Die in 1969…" forum story.
But what about 2009 and beyond?
If you had to pick a festival, or a live music experience, that defines your generation, or this decade, which festival would you choose?