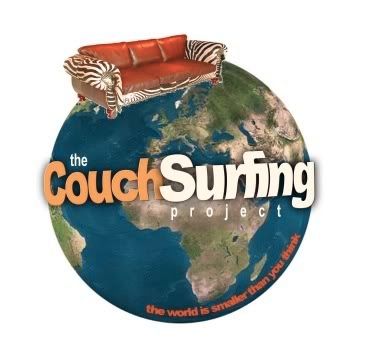 Ever wanted to return the favor after a great show and help an up-and-coming band save money and catch some z's after the show?
Then you might want to check out one of the web's most used hospitality sites couchsurfing.com.
From the Grateful Dead and Phish followers to punk rock communities, bands have been—formally and informally—crashing at fan's houses while on tour ever since the dawn of Rock 'n Roll.
And this SPIN story by Ragan Sutterfield about couchsurfing.com puts the historical couch-surfing practice in context with the current economic-hard-times in the music industry as the next generation of the musical family system extends into the social media realm.
Sutterfield reports that one of the site's creators Jesse Fenton and worldwide users say that "the best part is meeting people." Sutterfied also notes that "the failing economy has been a boon for the site, sending its membership soaring in the past year. More than half of the 900-plus bands that use it joined in 2008."
The Live Music Family System
When my wife and I talk about the influence of tough economic times on the family system, she always points out that our society might head back towards a closer knit community where on a larger scale families will live together to save money. Though I love my family, her point always freaks me out for many reasons.
So I took her idea and this SPIN article and combined them to see how they impact the "family communities" built around live music.
When I think about it, in many cases the relationships we make while covering live music does function as an extension of our standard family system. We cover a wide range of music and I often think about how different the jam-band community is from the hip hop or indie-rock communities.
Each "community" has it's own qualities and social codes and I would guess that if a hip hop band couchsurfed in a jam-band house there might be differences but I would also imagine that some type of musical style swapping would occur in the homes, too.
I haven't taken a deeper demographic dive into couchsurfing so I wonder:
Among those 900 that SPIN cites, are there indie-rock than hip hop bands, more punk bands than jam bands? What's the overall breakdown of bands and what have some of the experiences been like?
Knowing a bit about system psychology I would be very interested to see how much of an impact couchsurfing has on the evolution of the live music family system.
Have you used couchsurfing.com as a band or fan? If so, drop a comment and let me know how it went.