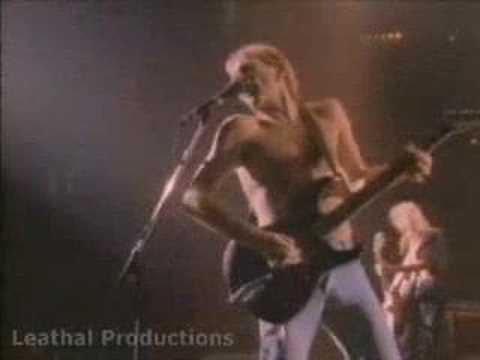 Even the once kings of british heavy metal Def Leppard need something to attract fans to their music these days, especially when the tunes don't seem to be turning anybody into hysterical pyromanics in 2008.
"Def Leppard proves once again they are pioneers not only in music, but now, as leaders in the digital age," so says the press release leading up to the band's Detroit show.
This weekend Def Leppard unveiled a new media ROCKZIMITY MARKETING" slant to go along with their tour and new album Songs From the Sparkle Lounge.
But is offering new media cell phone texting content at a live concert enough to add buzz to the live show and the new album in an era that's drastically different from their heavy-metal juggernauting days in the mid-late eighties?
Their last two albums fizzled right off the Billboard Hot 200 just as fast as they (barely) got there and since its release this summer Song's from the Sparkle Lounge has begun it's decent off the charts.
Stop me if I'm wrong, but I'm not so sure the average Def Leppard fan has fully embraced the concept of texting let alone texting at a live show? And who is the average Def Leppard fan, anyway?
I bring this up because on a previous post, we talked about how both artists and fans, and their respective generations, are split on whether or not the cell phone should be a part of the live show.
Leaders of the digital age? Really?
It seems that Def Leppard front man Joe Elliot would favor the no cellphone at shows opinion, as he has expressed an anti-web 2.0 attitude in a Billboard interview saying he didn't want to release any songs for fear of them ending up on You Tube.
It's has to be exciting for the dedicated Def Leppard fan that the band's adding an exclusive backstage element to the music marketing campaign, giving fans a chance to win a trip to the Sparkle Lounge after the show. And it will be interesting to see how successful this Rockizimty Marketing turns out.
But in general concept…it's not really anything new.
Fans who attended Lollapalooza the last two years were able to enroll in the Mindfield and interact before, during and even after attending the festival, with the chance to win backstage trips and other prizes. So making Bluetooth and Wifi, available in an arena environment might make Rockizimty a new thing but not it terms of integrating new media content into a live show experience.
I've also seen it done at smaller clubs the last two years where fans could send texts that would post on a large screen on stage prior to the show, allowing the fans to interact.
And I have to ask this. Is Def Leppard actually going to be doing the texting themselves or will they just hire a hip NMO (New Media Oriented) roadie to handle the instant text-messaging?
But, again, are the Def Leppard fans willing to thumb it with the band prior to the show, or during "Photograph" will fans use only one thumb and opt for the 20th century Bic lighter salute and bypass the raising of their glowing cell phone.